Markel Thread (1/X)
Markel has severely under performed the S&P 500 & $BRK in the last 5 years…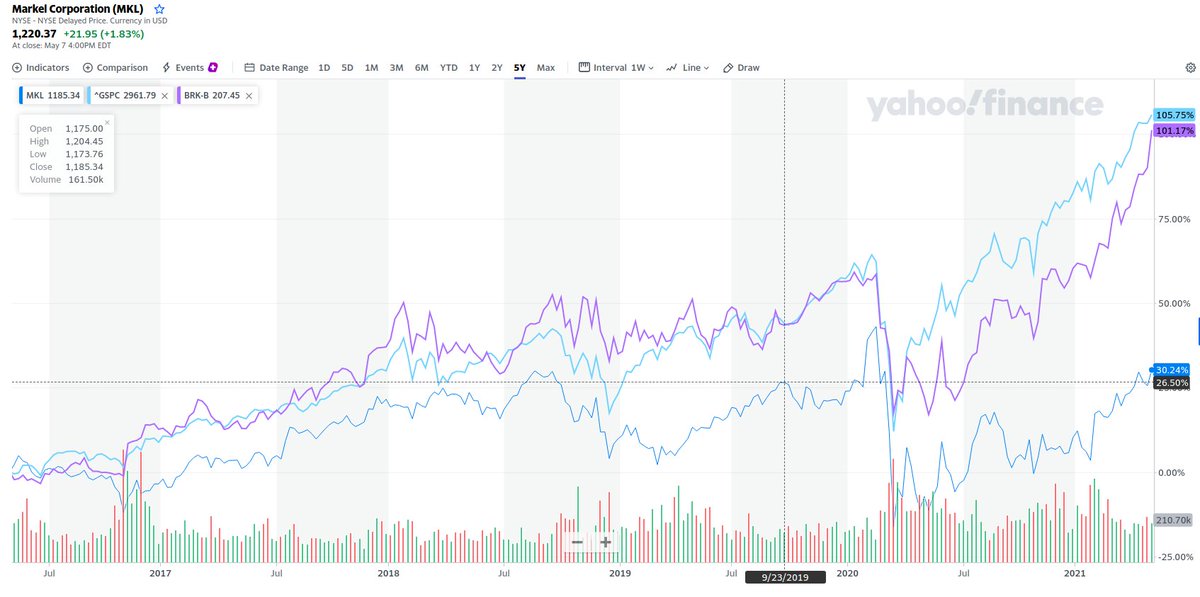 2 year and 1 year….
$MKL recently announced their Q1 2021 results. They ended Q1 2021 with BVPS of $913 implying a P/B of 1.33 which is still pretty sporty for $MKL. the good news was that the combined ratio was pretty healthy at 94% and Markel Ventures continues to grow robustly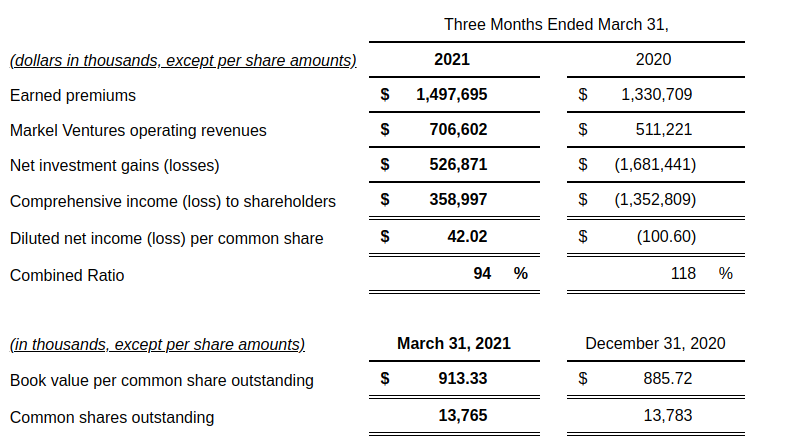 $MKL has a total SOS of 13.75M which has largely remained the same over the last several years. Continue to hold a significant fixed income portfolio of $787/share & equities portfolio of $547/share. ST investments $198/share and unrestricted cash $282/share

Unpaid losses and unearned premiums which are the main drivers for float are close to $1559/share or close to $21B. Largely unchanged from last year. Net investments gains for the quarter was $526M translating to $38/share
Out of the $43B assets on the balance sheet, $25B are in investments, $7B supporting the insurance operations and $3.7B on Markel Ventures. The ventures portion is still a pretty small portion of the assets from $MKL (a far cry from $BRK.B on that regard)

Markel Ventures net income and EBITDA continues to improve but at a rate lower than revenue growth… The ROA continues to pretty low at this point even from a EBITDA perspective.

Fairly modest buying on equities in Q1 2021 along with fairly thin selling as well. All in all, Gayner is sitting tight. (datasource: Dataroma)
All in all, a solid quarter. No significant changes in the equity portfolio. The valuation is too extremely high but is not too low either. The points in history where it was available close to book value is far and few in between. Ventures is making progress but still a drag!
Originally tweeted by Beowulf (@beowulfcapital) on May 9, 2021.